CBD is a great way to get help with anxiety, depression, high blood pressure, and a huge host of other health issues. But, with so many non-FDA-approved CBD products, how do you choose the right one? The last thing you want is to end up with CBD gummies with a high dose of THC. This is why homemade gummies are the best choice.
Homemade CBD gummies are a great way to try different flavors and have complete control over the ingredients and gummy quality. 
I've tried countless CBD gummies over the last year until I perfected my recipe. Here's the ultimate CBD gummies recipe that's easy to make and gives you all the benefits of CBD.
Quick Summary
CBD gummies are yummy treats available in various colors, forms, and flavors.

You can make your own gummies with a few ingredients and CBD oil.

You need a gummy mold to make CBD gummies.
What are CBD Gummies?
CBD, short for cannabidiol, is a compound extracted from the cannabis plant. CBD gummies are flavorful edibles infused with CBD oil. CBD gummies are available in a huge variety of colors, forms, and flavors. They also contain different concentrations of CBD oil. 
CBD gummies are popular because they are a yummy and discreet way to take CBD at home, work, and anywhere else. They can be used to treat chronic pain, anxiety, insomnia, and more.
CBD gummies are made from hemp plant extract. The other ingredients are mixed, heated, and poured into molds. Once the mixture in the molds cools, CBD gummies are ready to be packaged and sold.
How to Make CBD Gummies?
You make CBD gummies with flower or with CBD oil. Personally, I like to use CBD oil when making my own CBD gummies because it's easier to dose. Plus, CBD oil mixes more evenly, and the recipe is quicker, as there's no need for decarboxylation (the process of heating cannabis to activate its compounds).
But before you start making homemade CBD gummies, you need to think about CBD dosage. You have to decide how strong you want the gummies to be. For example, if you usually take 30 mg of CBD, do you want this dose in one gummy or spread out across gummy molds? 
Tip: I like to make 10 mg gummies. This way, I can decide if I want to take one, two, or more, depending on how I feel.
You also need to decide how many CBD oil gummies you want to make in a batch. This will depend on your silicone molds. For example, if you have a gummy bear mold, count how many gummies it fits, and make a large enough mixture. 
The Best CBD Gummy Recipe
Here's the recipe for the best and yummiest homemade CBD gummies.
Ingredients:
1 cup fruit juice, for example, pomegranate juice, cranberry juice, or lemon juice, if you want to make savory CBD gummies

2 tablespoons unflavored gelatin

2 tablespoons honey

2 ml of CBD tincture or oil
Instructions:
Take out a medium saucepan and pour the fruit juice. Heat on medium heat until it simmers.

When the juice starts to simmer, turn off the heat and add the gelatin and honey by whisking. Stir the gummy mixture for about a minute until well combined.

Move the gummy mixture into a small pitcher. Add CBD oil tincture and pour the mixture into your silicone molds.

Put the molds into a freezer or a fridge to set and leave for half an hour. You can store the edible gummies in the fridge for up to ten days in an airtight container.
Best Place To Buy CBD Gummies Online?
If you don't want to go into the trouble of making CBD gummies, that's totally fine. The online selection of CBD edibles doesn't lack variety. But you need to be careful when shopping for CBD gummies online. Make sure to buy from reputable sellers that clearly list all the ingredients and third-party test their products.
I've tried several CBD gummy brands, and my choice for the best one goes to Keoni CBD. 
These are broad-spectrum CBD gummies, which means they don't contain any THC, so there's no chance you'll get high.
Each gummy contains a high dose of CBD. You get 60 gummies per bottle, which is enough for a whole month.
The manufacturer's third-party tests the gummies, so you can be sure the list of ingredients is true. Apart from CBD, these gummies contain other natural ingredients, such as pectin and citric acid. They don't have any artificial ingredients and are vegan. 
Pros:
Contain a high dose of CBD

Don't have any THC

Natural ingredients

Vegan formula
Cons:
Contain a little sugar per gummy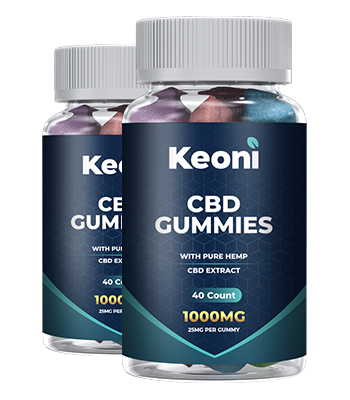 Should You Make CBD Gummies?
Homemade CBD gummies are a great alternative to store-bought ones. They are more affordable, and you have complete control over the ingredients, which means better quality. 
But making homemade gummies requires some effort on your part. If you don't want to worry about the ingredients, clean silicone mold, and more, go for a store-bought version like Keoni CBD gummies or Uno CBD gummies. Check out the gummies I mentioned above, and get all the health benefits of CBD with minimum effort.
References
CBD: What You Need to Know. (2022, August 8). Www.cdc.gov. https://www.cdc.gov/marijuana/featured-topics/CBD.html 
CBD products are everywhere. But do they work? (2019, August 1). Harvard Health. https://www.health.harvard.edu/newsletter_article/cbd-products-are-everywhere-but-do-they
Uno CBD. (2023, January 17). Buy Uno CBD Gummie Online. Available at: https://unocbd.com/product-category/uno-cbd-gummies/
Technologies, L. (n.d.). Decarboxylation: What Is It and Why Is It Important? Blog.lunatechequipment.com. Retrieved January 26, 2023 https://blog.lunatechequipment.com/cannabis-decarboxylation