IMPORTANT – PLEASE CAREFULLY READ AND UNDERSTAND THESE TERMS OF SALE BEFORE ACCESSING, USING, OR PLACING AN ORDER THROUGH OUR WEBSITE.THESE TERMS CONTAIN DISCLAIMERS OF WARRANTIES AND LIMITATIONS OF LIABILITIES (SEESECTIONS 14 AND 15). THESE TERMS FORM AN ESSENTIAL BASIS OF OUR AGREEMENT. PLEASE PRINT AND RETAIN A COPY OF THIS AGREEMENT FOR YOUR RECORDS.Your use of https://keonicbd.com/, including any sub-domains thereof, affiliated websites, and mobile applications (collectively, the "Website"), which are owned and maintained by Wellness Brands, LLC ("Keoni," "we," "our," "us"), are governed by the policies, terms, and conditions set forth below. Please read them carefully. We offer the Website, including all information, tools, products and services available from the Website to you, the user, conditioned upon your acceptance of all terms, conditions, policies and notices stated here. By accessing, using, or placing an order over the Website, you agree to the terms set forth herein. If you do not agree to these terms and conditions in their entirety, you are not authorized to use the Website in any manner or form whatsoever.THIS AGREEMENT CONTAINS ARBITRATION AND CLASS ACTION WAIVER PROVISIONS THAT WAIVE YOUR RIGHT TO A COURT HEARING, RIGHT TO A JURY TRIAL AND RIGHT TO PARTICIPATE IN A CLASS ACTION.ARBITRATION IS MANDATORY AND IS THE EXCLUSIVE REMEDY FOR ANY AND ALL DISPUTES UNLESS SPECIFIED BELOW IN SECTION 16 OR IF YOU OPT-OUT. PLEASE CAREFULLY REVIEW THE DISPUTE RESOLUTION PROVISIONS IN SECTION 16 BELOW WHICH DESCRIBES YOUR RIGHT TO OPT-OUT.You can review the most current version of the Terms at any time on this page (https://keonicbd.com/terms-and-conditions/). We reserve the right to update, change, or replace any part of these Terms by posting updates and/or changes to our Website. It is your responsibility to check this page periodically for changes. YOUR CONTINUED USE OF OR ACCESS TO THE WEBSITE FOLLOWING THE POSTING OF ANY CHANGES CONSTITUTES BINDING ACCEPTANCE OF THOSE CHANGES.
TABLE OF CONTENTS
TERMS OF SALE
1. WEBSITE USE
By using the Website and agreeing to these Terms, you represent that you are at least the age of majority in your state or province of residence. If you use the Website, you are affirming that you have the legal capacity to enter into a binding contract with us, and have read this Agreement and understand and agree to its terms.
2. PRIVACY & SECURITY DISCLOSURE
Our privacy policy may be viewed at https://keonicbd.com/privacy-policy/. The Privacy Policy is hereby incorporated into these Terms by reference and constitute a part of these Terms. Keoni reserves the right to modify the privacy policy at its sole discretion.
3. GENERAL CONDITIONS AND WEBSITE USER CONDUCT RESTRICTIONS
All aspects of our Website are protected by U.S. and international copyright, trademark, and other intellectual property laws. You do not acquire any ownership or other rights by downloading or using the Website or any material on it.You agree not to use or attempt to use the Website or any products or services in any unlawful manner. You further agree not to commit any unlawful act or attempt to commit any unlawful act on or through the Website including, but not limited to: (1) hacking and other digital or physical attacks on the Website; (2) publishing vulgar, obscene, or defamatory material; or (3) any other unlawful act.
4. PRODUCTS SOLD FOR ADULT, PERSONAL USE ONLY AND AS PART OF A HEALTHY LIFESTYLE
Keoni products are for adults only. By using our website and placing an order, you represent and warrant that you are at least 18 years old or of the age of majority in the jurisdiction where you reside. You further agree that any products or services you purchase from Keoni and/or our Website will be used for your personal, non-commercial use. You agree that you will not resell, re-distribute, modify, or export any product that you order from the Website.Keoni does not make any guarantee that you will accomplish your health and/or wellness goals. All products and services are to be used as a part of a healthy lifestyle that includes appropriate nutrition, exercise, and self-care. Your results may vary depending upon a variety of factors unique to you, such as your age, health, and genetics.
5. NO MEDICAL ADVICE, AND ACCURACY, COMPLETENESS AND TIMELINESS OF INFORMATION
The material on the Website is provided for general informational purposes only and is not intended as medical advice, or as a substitute for the medical advice of a physician. The statements made on this Website have not been evaluated by the Food and Drug Administration and are not intended to diagnose, treat, cure or prevent any disease. You should consult your physician before beginning any health/wellness program, exercise regimen, changing your diet, taking any dietary supplement, or using any information provided by Keoni.While we endeavor to provide accurate and current information on our Website, there may be information on our Website that contains typographical errors, inaccuracies, or omissions that may relate to product descriptions, pricing, promotions, offers, product shipping charges, transit times, and availability. We reserve the right to correct any errors, inaccuracies, or omissions, and to change or update information or cancel orders if any information on the Website or on any related website is inaccurate at any time without prior notice (including after you have submitted your order).This Website may contain certain historical information. Historical information, necessarily, is not current and is provided for your reference only. We reserve the right to modify the contents of this Website at any time, but we have no obligation to update any information on our Website. You agree that it is your responsibility to monitor changes to our Website.
6. MODIFICATIONS TO THE WEBSITE AND PRICES
We reserve the right at any time to modify or discontinue access to the Website (or any part or content thereof) without notice at any time. We shall not be liable to you or to any third-party for any modification, suspension, or discontinuance of access to the Website. Certain products or services may be available exclusively online through the Website. These products or services may have limited quantities and are subject to return or exchange only according to our Shipping and Returns Policies.We reserve the right to limit the sales of our products to any person, geographic region, or jurisdiction. We may exercise this right on a case-by-case basis. All descriptions of products or product pricing are subject to change at any time without notice, at our sole discretion.Any offer for any product or service made on this Website is void where prohibited.
7. PAYMENT
All charges are in U.S. Dollars. We accept major credit and debit cards, including those issued by Visa, MasterCard, American Express, and Discover.When placing an order online, you will need:
The address the card's statement is sent to (billing address);
The card number and expiration date; and
The 3 or 4 digit code found only on the card (CVV2 code).
By submitting credit card information or other payment information to us, you represent and agree that: (i) you are fully entitled to use that card or account; (ii) all payment information provided is complete and accurate; (iii) you will be responsible for any credit card fees; and (iv) that sufficient funds exist to pay us the amount(s) due.We and our third-party payment service providers may request, and we may receive, updated credit card information from your credit card issuer, such as updated card numbers and expiration date information when your credit card has expired. If such updated information is provided to us and our third-party payment service providers, we will update your account information accordingly.Your credit card issuer may give you the right to opt-out of providing vendors and third-party payment service providers with your updated credit card information. If you wish to opt-out of your credit card's updating service, you should contact your credit card issuer.We are not responsible for any fees or charges that your bank or credit card issuer may apply. If your bank or credit card issuer reverses a charge to your credit card, we may bill you directly and seek payment by another method including a mailed statement.
8. ORDER PLACEMENT AND ACCEPTANCE
Your electronic order confirmation, or any form of confirmation, does not signify our acceptance of your order. We reserve the right to accept or deny shipment to anyone for any reason. In the event we deny your order, you will receive a refund to your original form of payment. You understand and agree that we will not be liable for any losses or damages that may result from our refusal to provide you any service or product. We reserve the right to require additional information before processing any order.
9. SUBSCRIPTIONS
If you go to the Website to purchase a product, you may have the option of buying a product one time, or enrolling in our Subscribe & Save program. If you enroll in the Subscribe & Save program, your subscription is automatically billed every 30, 60, or 90 days (depending on the option you selected on the website) to the credit card you provided when you purchased the subscription and mailed to you, until you cancel the subscription. We may use an account updater to automatically update your credit card information in the event it changes, in which case, your renewal will be billed to the updated account information. If you wish to cancel your subscription, you may do so at any time, however, you must cancel your subscription twenty-four (24) hours prior to your next shipment going out in order to not receive your next scheduled order. To cancel your subscription, simply call Customer Support at 1-855-821-6615, email us at support@trykeoni.com, or use our subscription cancellation web form located on our main webpage.From time-to-time Keoni may offer free products as an incentive to make a purchase. Free products may be included in your initial order; however, these products will not accompany any subsequent subscription orders.
10. SHIPPING
Keoni ships to addresses located in the United States via USPS and commercial carrier.Orders generally ship within 24-48 business hours of the time of placement. Orders typically arrive within 3-5 days of shipment.Accurate shipping address and phone number are required. We are not responsible for late shipments/missing shipments if you enter incorrect shipping address information. If you discover that you have made a mistake with your order after it has been submitted, please contact Customer Support immediately by phone or email (1-855-821-6615 / support@trykeoni.com). You must contact us as soon as possible in order to modify or cancel your pending order. However, we frequently ship the same day that you order, so we cannot guarantee that we will be able to amend your order in accordance with your instructions.
11. DELIVERY CONFIRMATION
Because many instances may occur at your delivery address that are beyond our control, you agree that any delivery confirmation provided by the carrier is deemed sufficient proof of delivery to the cardholder, even without a signature.
12. RETURNS AND REFUNDS
Keoni wants you to be beyond satisfied with your experience with us so we have made returning or exchanging products easy. If you are unsatisfied with our product, or if it arrives damaged, you may return or exchange the unused portion up to 30 days from the date that you placed your order (the billing date) for a full refund according to the following terms.To obtain a full refund, you must return any empty or unused portion of your order, your return must be approved, and the return must be received within 30 days of the date that you placed your order (the billing date).The following terms apply for all returned items:
To initiate a refund or exchange, simply email us at support@trykeoni.com or call 1-855-821-6615. You will be given a Return Merchandise Authorization (RMA) number and details for shipping.
We cannot process or refund packages marked "Return to Sender."
Refunds will be issued to the same credit card or method of payment that was charged when ordering the product.
To ensure a refund is processed for you, please send returns to the address provided along with your RMA number. The RMA number must be clearly written on the package that you are sending back. Our shipping department is NOT allowed to accept any packages without an RMA number.
Returned products must be sent to the following address:Keoni:Address:PO Box 227631 Doral, FL 33222 We are not responsible for lost or stolen items. We recommend all returned items to be sent using some type of delivery confirmation system to ensure proper delivery.After the shipping department receives your return, it generally takes 5-10 business days or sooner to process your refund. Once a return is processed, it usually takes 30 business days for this return to be posted to your account, depending on your financial institution.
13. SOCIAL MEDIA
This section applies to everyone who interacts with our social media presence, including comment sections, feeds, and other elements of social media presence viewable on Facebook, Instagram, YouTube, Pinterest, Twitter, Google+, LinkedIn, or any of the many other available external third-party social media platforms we may utilize ("Social Media Presence").Social media platforms are places of public information exchange, and you should have no expectation of privacy when using them. Specifically, neither these Terms nor our Privacy Statement apply to our Social Media Presence. The sites and platforms that host our Social Media Presence are not controlled by us and therefore have their own privacy policies and terms of use. The comments and opinions expressed by users on social media are theirs alone and do not reflect the opinions of Keoni. Comments that some would consider inappropriate or offensive may appear on our Social Media Presence and may remain there until they have been identified by us or called to our attention and we are able to work through the necessary procedures and technical processes to have them removed. If you see an offensive or inappropriate post or comment on our Social Media Presence, you should report it to the operator of the applicable site or platform using the procedures they have established for that purpose.
14. DISCLAIMER OF WARRANTIES
EXCEPT WHERE OTHERWISE INAPPLICABLE OR PROHIBITED BY LAW, THIS WEBSITE AND ALL PRODUCTS PROVIDED ARE PROVIDED ON AN "AS IS", "AS AVAILABLE" BASIS WITHOUT WARRANTIES OF ANY KIND, EITHER EXPRESS OR IMPLIED, INCLUDING BUT NOT LIMITED TO WARRANTIES OF TITLE OR IMPLIED WARRANTIES OF MERCHANTABILITY OR FITNESS FOR A PARTICULAR PURPOSE. WE MAKE NO, AND EXPRESSLY DISCLAIM ANY AND ALL, REPRESENTATIONS AND WARRANTIES AS TO THE RELIABILITY, TIMELINESS, QUALITY, SUITABILITY, AVAILABILITY, ACCURACY AND/OR COMPLETENESS OF ANY INFORMATION ON THIS WEBSITE. WE DO NOT REPRESENT OR WARRANT, AND EXPRESSLY DISCLAIM THAT: (A) OUR PRODUCTS WILL MEET YOUR REQUIREMENTS OR EXPECTATIONS, (B) THE QUALITY OF ANY PRODUCTS, SERVICES, INFORMATION, OR OTHER MATERIAL PURCHASED OR OBTAINED BY YOU THROUGH THE WEBSITE WILL MEET YOUR REQUIREMENTS OR EXPECTATIONS, OR (C) THE WEBSITE OR THE SERVER(S) THAT MAKE THE WEBSITE AVAILABLE ARE FREE OF VIRUSES OR OTHER HARMFUL COMPONENTS. ALL CONDITIONS, REPRESENTATIONS AND WARRANTIES, WHETHER EXPRESS, IMPLIED, STATUTORY OR OTHERWISE, INCLUDING, WITHOUT LIMITATION, ANY IMPLIED WARRANTY OF MERCHANTABILITY, FITNESS FOR A PARTICULAR PURPOSE, OR NONINFRINGEMENT OF THIRD-PARTY RIGHTS, ARE HEREBY DISCLAIMED TO THE MAXIMUM EXTENT PERMITTED BY APPLICABLE LAW.
15. DISCLAIMER OF LIABILITIES
EXCEPT WHERE OTHERWISE INAPPLICABLE OR PROHIBITED BY LAW, IN NO EVENT SHALLKEONIOR ANY OF ITS OFFICERS, DIRECTORS, SHAREHOLDERS, EMPLOYEES, INDEPENDENT CONTRACTORS, AND/OR AGENTS BE LIABLE FOR ANY INDIRECT, SPECIAL, INCIDENTAL, EXEMPLARY, CONSEQUENTIAL, PUNITIVE, OR ANY OTHER DAMAGES, FEES, COSTS OR CLAIMS ARISING FROM OR RELATED TO THIS AGREEMENT, THE PRIVACY POLICY, THE PRODUCTS, OR YOUR OR A THIRD-PARTY'S USE OR ATTEMPTED USE OF THE WEBSITE OR ANY PRODUCT, REGARDLESS OF WHETHER KEONI HAS HAD NOTICE OF THE POSSIBILITY OF SUCH DAMAGES, FEES, COSTS, OR CLAIMS. THIS INCLUDES, WITHOUT LIMITATION, ANY LOSS OF USE, LOSS OF PROFITS, LOSS OF DATA, LOSS OF GOODWILL, COST OF PROCUREMENT OF SUBSTITUTE SERVICES OR PRODUCTS, OR ANY OTHER INDIRECT, SPECIAL, INCIDENTAL, PUNITIVE, CONSEQUENTIAL, OR OTHER DAMAGES. THIS APPLIES REGARDLESS OF THE MANNER IN WHICH DAMAGES ARE ALLEGEDLY CAUSED, AND ON ANY THEORY OF LIABILITY, WHETHER FOR BREACH OF CONTRACT, TORT (INCLUDING NEGLIGENCE AND STRICT LIABILITY), WARRANTY, OR OTHERWISE. IF, NOTWITHSTANDING THE LIMITATIONS OF LIABILITY SET FORTH ABOVE,KEONIIS FOUND LIABLE UNDER ANY THEORY,KEONI'S LIABILITY AND YOUR EXCLUSIVE REMEDY WILL BE LIMITED TO USD $500.00. THIS LIMITATION OF LIABILITY SHALL APPLY FOR ALL CLAIMS, REGARDLESS OF WHETHER KEONI WAS AWARE OF OR ADVISED IN ADVANCE OF THE POSSIBILITY OF DAMAGES OR SUCH CLAIMS. SOME STATES DO NOT ALLOW THE EXCLUSION OF CERTAIN WARRANTIES, SO SOME OF THE ABOVE EXCLUSIONS MAY NOT APPLY TO YOU AND YOU MAY HAVE ADDITIONAL RIGHTS.
16. DISPUTE RESOLUTION BY MANDATORY BINDING ARBITRATION AND CLASS ACTION WAIVER
PLEASE READ THIS ARBITRATION AND CLASS ACTION WAIVER PROVISION CAREFULLY. IT REQUIRES YOU TO ARBITRATE DISPUTES WITH KEONI AND LIMITS THE MANNER IN WHICH YOU CAN SEEK RELIEF FROM US.EXCEPT WHERE PROHIBITED BY LAW, YOU AGREE THAT ANY CLAIM THAT YOU MAY HAVE IN THE FUTURE MUST BE RESOLVED THROUGH FINAL AND BINDING CONFIDENTIAL ARBITRATION.YOU ACKNOWLEDGE AND AGREE THAT YOU ARE WAIVING THE RIGHT TO A TRIAL BY JURY. THE RIGHTS THAT YOU WOULD HAVE IF YOU WENT TO COURT, SUCH AS DISCOVERY OR THE RIGHT TO APPEAL, MAY BE MORE LIMITED OR MAY NOT EXIST. YOU AGREE THAT YOU MAY ONLY BRING A CLAIM IN YOUR INDIVIDUAL CAPACITY AND NOT AS A PLAINTIFF (LEAD OR OTHERWISE) OR CLASS MEMBER IN ANY PURPORTED CLASS OR REPRESENTATIVE PROCEEDING. YOU FURTHER AGREE THAT THE ARBITRATOR MAY NOT CONSOLIDATE PROCEEDINGS OR CLAIMS OR OTHERWISE PRESIDE OVER ANY FORM OF A REPRESENTATIVE OR CLASS PROCEEDING.THERE IS NO JUDGE OR JURY IN ARBITRATION, AND COURT REVIEW OF AN ARBITRATION AWARD IS LIMITED. HOWEVER, AN ARBITRATOR CAN AWARD ON AN INDIVIDUAL BASIS THE SAME DAMAGES AND RELIEF AS A COURT (INCLUDING INJUNCTIVE AND DECLARATORY RELIEF OR STATUTORY DAMAGES), AND MUST FOLLOW THE TERMS OF THESE CONDITIONS OF USE AS A COURT WOULD.GeneralArbitration is a manner of resolving a "Claim" without filing a lawsuit. "Claim" means any dispute between you, Keoni, or any involved third-party relating to your account, your use of the Website, your relationship with Keoni, these Terms, or the Privacy Policy. This includes any and all claims that relate in any way to your use or attempted use of the products, and any act or omission by Keoni or any third-party related to your use or attempted use of the products. You, Keoni, or any involved third-party may pursue a Claim. Keoni agrees to final and binding confidential arbitration should it have any Claims against you. Likewise, you agree to final and binding confidential arbitration should you have any Claims against Keoni.By agreeing to arbitrate, you waive the right to go to court and agree instead to submit any Claims to final and binding confidential arbitration. You further agree that all claims must be arbitrated on an individual basis and not on a class basis, only individual relief is available, and that claims of more than one customer cannot be arbitrated or consolidated with those of any other customer. This arbitration provision sets forth the terms and conditions of our agreement to final and binding confidential arbitration and is governed by and enforceable under the Federal Arbitration Act (the "FAA"), 9 U.S.C. §§ 1-16, as amended.Notwithstanding anything to the contrary herein, (a) a representative action for public injunctive relief pursuant to California's Consumer Legal Remedies Act (Cal. Civ. Code § 1750 et seq.), Unfair Competition Law (Cal. Bus. & Prof. Code § 17200 et seq.) and/or False Advertising Law (Cal. Bus. & Prof. Code § 17500 et seq.) must be arbitrated on a class basis, (b) in the event that the foregoing clause is deemed invalid or unenforceable, a representative action for public injunctive relief pursuant to California's Consumer Legal Remedies Act (Cal. Civ. Code § 1750 et seq.), Unfair Competition Law (Cal. Bus. & Prof. Code § 17200 et seq.) and/or False Advertising Law (Cal. Bus. & Prof. Code § 17500 et seq.) may be brought in the state or federal courts located in Kentucky on a class basis, and (c) any claims other than for public injunctive relief must be arbitrated on an individual, non-class basis as otherwise set forth in this Section.ExceptionsNotwithstanding the foregoing, and as an exception to final and binding confidential arbitration, you and Keoni both retain the right to pursue, in small claims court, any claim that is within that court's jurisdiction and proceeds on an individual (non-class) basis, including overdue account matters within the small claims court's jurisdiction. Keoni will not demand arbitration in connection with any individual claim that you properly file and pursue in a small claims court, so long as the claim is and remains pending in that court.The following claims shall not be subject to final and binding arbitration and must be adjudicated only in the state or federal courts located in Kentucky: (i) an action by Keoni relating to the infringement or validity of our proprietary rights, including without limitation, trademarks, service marks, trade dress, copyrights, trade secrets, or patents; or (ii) an action by Keoni for temporary, preliminary, or permanent injunctive relief, whether prohibitive or mandatory, or other provisional relief, against you for breach or threatened breach of this Agreement. You expressly agree to refrain from bringing or joining any claims that are excluded from final and binding arbitration pursuant to this subsection "b" in any representative or class-wide capacity, including but not limited to bringing or joining any claims in any class action or any class-wide arbitration. Small claims matters may be filed in any small claims court with personal and subject matter jurisdiction over the parties. For all other matters excluded from final and binding arbitration by this subsection "b," the parties consent to exclusive jurisdiction and venue in the state and federal courts located in Kentucky, and forever waive any challenge to said courts' jurisdiction and venue.Required Pre-Dispute ProceduresWe acknowledge and agree that before initiating any Claim against the other, we agree to first contact the other with a written description of the dispute, which shall include all relevant documents and information, and the proposed resolution. You may send the written description of any dispute you have with us by certified mail to Wellness Brands, LLC, Attn: Keoni Legal Department,1032 Madison Avenue, Covington, KY 41011. Keoni will contact you by letter at the billing address you provided to us or at the email address you provided to us. You agree to negotiate with Keoni or its designated representative in good faith about your problem or dispute. If for some reason the dispute is not resolved within 60 days after receipt of the written dispute, we agree to the dispute resolution provisions below. Notwithstanding the foregoing or any other term of this arbitration agreement, we will have the right to seek injunctive or other equitable relief in state or federal court located in Kentucky to enforce these Terms or prevent an infringement of a third-party's rights or our intellectual property rights, as stated in subsection "b" above. You hereby expressly consent to, and forever waive any challenge to, the exclusive personal jurisdiction and venue of said courts in such actions.Commencing ArbitrationYou and Keoni agree to commence any arbitration proceeding within one (1) year after the Claim arises (the one-year period includes the required pre-dispute procedures set forth above) and that any arbitration proceeding commenced after one (1) year shall be forever barred.Arbitration LocationIf the amount in controversy is $500 or less, then the arbitration may be conducted by telephone or by written submissions. Otherwise, the arbitration shall be conducted in Kentucky unless Keoni otherwise agrees to arbitrate in another forum requested by you.Organization, Rules and the ArbitratorWe each agree that any and all Claims other than those exempted under subsection "b" above shall be submitted to final and binding confidential arbitration before a single arbitrator of the American Arbitration Association ("AAA"). Either party may commence the arbitration process by submitting a written demand for arbitration with the AAA, and providing a copy to the other party, within the time period set forth in subsection "d" above. The arbitrator shall be selected by agreement of the parties or, if the parties cannot agree, chosen in accordance with Rules of the AAA. The arbitration will be conducted in accordance with the provisions of the AAA's Consumer Arbitration Rules, in effect at the time of submission of the demand for arbitration. The AAA's Rules are available at www.adr.org or by calling 1-800-778-7879. The arbitrator shall have the exclusive and sole authority to resolve any dispute relating to the interpretation, construction, validity, applicability, or enforceability of these Terms, the Privacy Policy, and this arbitration provision. The arbitrator shall have the exclusive and sole authority to determine whether any dispute is arbitrable. The arbitrator shall have the exclusive and sole authority to determine whether this arbitration agreement can be enforced against a non-signatory to this agreement and whether a non-signatory to this agreement can enforce this provision against you or Keoni.FeesPayment of all filing, administration and arbitrator fees will be governed by the AAA's Rules.Governing Law and AwardThe arbitrator shall follow the substantive law of the State of Kentucky without regard to its conflicts of laws principles. Any award rendered shall include a confidential written opinion and shall be final, subject to appeal under the FAA. Judgment on the award rendered by the arbitrator may be entered in any court of competent jurisdiction.EnforceabilityThis provision survives termination of your account or relationship with Keoni, bankruptcy, assignment, or transfer. If the class action waiver is deemed unenforceable (i.e., unenforceability would allow arbitration to proceed as a class or representative action), then this entire arbitration provision shall be rendered null and void and shall not apply. If a portion of this arbitration provision (other than the class action waiver) is deemed unenforceable, the remaining portions of this arbitration provision shall remain in full force and effect.MiscellaneousFailure or any delay in enforcing this arbitration provision in connection with any particular Claim will not constitute a waiver of any rights to require arbitration at a later time or in connection with any other Claims except all Claims must be brought within the 1 year limitation period set forth above. This provision is the entire arbitration agreement between you and Keoni and shall not be modified except in writing by Keoni.AmendmentsKeoni reserves the right to amend this arbitration provision at any time. Your continued use of the Website, purchase of a product on or through the Website, or use or attempted use of a Keoni product, is affirmation of your consent to such changes. Should the changes to this arbitration provision be material, Keoni will provide you notice and an opportunity to opt-out. Your continued use of the Website, purchase of a product on or through the Website, or use or attempted use of a Keoni product, is affirmation of your consent to such material changes.YOU UNDERSTAND AND AGREE TO HAVE ANY CLAIMS DECIDED INDIVIDUALLY AND ONLY THROUGH BINDING, FINAL, AND CONFIDENTIAL ARBITRATION. YOU HAVE THE RIGHT TO OPT-OUT OF THIS ARBITRATION PROVISION WITHIN THIRTY (30) DAYS FROM THE DATE THAT YOU PURCHASE, USE, OR ATTEMPT TO USE A PRODUCT PURCHASED ON OR THROUGH THE WEBSITE (WHICHEVER COMES FIRST) BY WRITING TO US VIA CERTIFIED MAIL AT WELLNESS BRANDS, LLC, ATTN: KEONI LEGAL DEPARTMENT,1032 Madison Avenue, Covington, KY 41011.FOR YOUR OPT-OUT TO BE EFFECTIVE, YOU MUST SUBMIT A SIGNED WRITTEN NOTICE IDENTIFYING ANY PRODUCT YOU PURCHASED, USED OR ATTEMPTED TO USE WITHIN THE 30 DAYS AND THE DATE YOU FIRST PURCHASED, USED OR ATTEMPTED TO USE THE PRODUCT. IF MORE THAN THIRTY (30) DAYS HAVE PASSED, YOU ARE NOT ELIGIBLE TO OPT OUT OF THIS PROVISION AND YOU MUST PURSUE YOUR CLAIM THROUGH BINDING ARBITRATION AS SET FORTH IN THIS AGREEMENT.
17. INDEMNIFICATION
To the fullest extent permitted by law, you agree to indemnify, defend, and hold harmless Keoni, its parent, subsidiaries, predecessors, successors and affiliates, and their respective partners, officers, directors, agents, representatives, contractors, licensors, service providers, subcontractors, suppliers, interns, and employees, from and against any and all claims, actions, losses, liabilities, damages, expenses, demands and costs of any kind, including, but not limited to, reasonable attorneys' fees, arising out of, resulting from, or in any way connected with or related to (1) your breach of these Terms, the documents they incorporate by reference, or the Agreement; (2) your breach of any representations or warranties in this Agreement; or (3) your violation of any law or the rights of a third-party.
18. THIRD-PARTY WEBSITES AND LINKS
Our Website may include materials from third-parties or links to third-party websites. We are not liable for any third-party materials or websites. Please review carefully the third-party's policies and practices and make sure you understand them before you engage in any transaction. Complaints, claims, concerns, or questions regarding third-party products should be directed to the third-party.
19. TESTIMONIALS, REVIEWS, AND OTHER SUBMISSIONS
Keoni may use testimonials and/or product reviews in whole or in part together with the name and state/country of the person submitting it. Testimonials may be used for any form of activity relating to Keoni's products, in printed and online media, as Keoni determines in its absolute discretion. Testimonials represent the unique experience of the customers submitting the testimonial, and do not necessarily reflect the experience that you may have using our products. As noted in Section 4 above, your results will vary depending upon a variety of factors unique to you, such as your age, health, and genetics.Anything that you submit or post to the Website and/or provide us, including without limitation, photographs, testimonials, ideas, know-how, techniques, questions, reviews, comments, and suggestions (collectively, "Submissions") is and will be treated as non-confidential and nonproprietary, and we shall have the royalty-free, worldwide, perpetual, irrevocable and transferable right to use, copy, distribute, display, publish, perform, sell, lease, transmit, adapt, and create derivative works from such Submissions by any means and in any form, and to translate, modify, reverse-engineer, disassemble, or decompile such Submissions. You represent and warrant that you are the owner or have sufficient rights to share the Submissions with us. All Submissions shall automatically become our sole and exclusive property and shall not be returned to you.Additionally, Keoni reserves the right to correct grammatical and typing errors, to shorten testimonials prior to publication or use, and to review all testimonials prior to publication or use. Keoni shall be under no obligation to use any, or any part of, any testimonial or product review submitted. If you submit a testimonial, you are confirming that you have read, understood and agree to these Terms. If you disagree with any part of these Terms, do not submit a testimonial.
20. DIGITAL MILLENNIUM COPYRIGHT ACT NOTICE
This Website maintains specific contact information provided below, including an e-mail address, for notifications of claimed infringement regarding materials posted to this Website. All notices should be addressed to the contact person specified below (our agent for notice of claimed infringement):Notification of Claimed Infringement:Wellness Brands, LLCAttn: Keoni DMCA/Copyright Agent1032 Madison AvenueCovington, KY, 41011Tel: 1-855-821-6615Email Address: support@trykeoni.comYou may contact our agent for notice of claimed infringement specified above with complaints regarding allegedly infringing posted material and we will investigate those complaints. If the posted material is believed in good faith by us to violate any applicable law, we will remove or disable access to any such material, and we will notify the posting party that the material has been blocked or removed.In notifying us of alleged copyright infringement, the Digital Millennium Copyright Act requires that you include the following information: (i) description of the copyrighted work that is the subject of claimed infringement; (ii) description of the infringing material and information sufficient to permit us to locate the alleged material; (iii) contact information for you, including your address, telephone number and/or e-mail address; (iv) a statement by you that you have a good faith belief that the material in the manner complained of is not authorized by the copyright owner, or its agent, or by the operation of any law; (v) a statement by you, signed under penalty of perjury, that the information in the notification is accurate and that you have the authority to enforce the copyrights that are claimed to be infringed; and (vi) a physical or electronic signature of the copyright owner or a person authorized to act on the copyright owner's behalf. Failure to include all of the above-listed information may result in the delay of the processing of your complaint.
21. ELECTRONIC COMMUNICATIONS
You agree that we may communicate electronically with you and that such communications, as well as notices, disclosures, agreements, and other communications that we provide to you electronically, are equivalent to communications in writing and shall have the same force and effect as if they were in writing and signed by the party sending the communication.
22. ASSIGNMENT
You may not assign any of your rights under these Terms, and any such attempt will be null and void. Keoni and its affiliates may, in their individual discretion, transfer, without further consent or notification, all contractual rights and obligations pursuant to these Terms if some or all of Keoni's business is transferred to another entity by way of merger, sale of its assets or otherwise.
23. NO WAIVER
No waiver by Keoni of any term or condition set forth in these Terms shall be deemed a further or continuing waiver of such term or condition or a waiver of any other term or condition, and any failure by Keoni to assert a right or provision under these Terms shall not constitute a waiver of such right or provision.
24. NO AGENCY RELATIONSHIP
No joint venture, partnership, employment, or agency relationship exists between you and us as a result of you receiving a product from us or from using this Website.
25. SEVERABILITY
In the event that any provision of these Terms is determined to be unlawful, void or unenforceable, such provision shall nonetheless be enforceable to the fullest extent permitted by applicable law, and the unenforceable portion shall be deemed to be severed from these Terms. Such determination shall not affect the validity and enforceability of any other remaining provisions.
26. TERMINATION
In the event that we terminate this Agreement, Sections 2-5, 13-17, 19-25, 27, as well as any representations, warranties, and other obligations made or taken by you, shall survive the termination of this Agreement.
27. ENTIRE AGREEMENT
These Terms, the Agreement, and any policies or operating rules posted by us on the Website or in respect to the Website constitutes the entire agreement and understanding between you and Keoni, and supersedes and replaces any prior or contemporaneous agreements. Any ambiguities in the interpretation of these Terms or the Agreement shall not be construed against the drafting party.
28. QUESTIONS OR ADDITIONAL INFORMATION
If you purchased a product or service through the Website, please contact Customer Support by phone or email.Keoni1032 Madison AvenueCovington, KY 41011Tel: 1-855-821-6615Email: support@trykeoni.com
29. Disclaimer
This merchant does not condone the sale of any illegal products. To ensure compliance with this policy, the merchant will conduct monthly audits to ensure there are no violations of this disclaimer. Any violations of this disclaimer will be addressed immediately and appropriate action will be taken.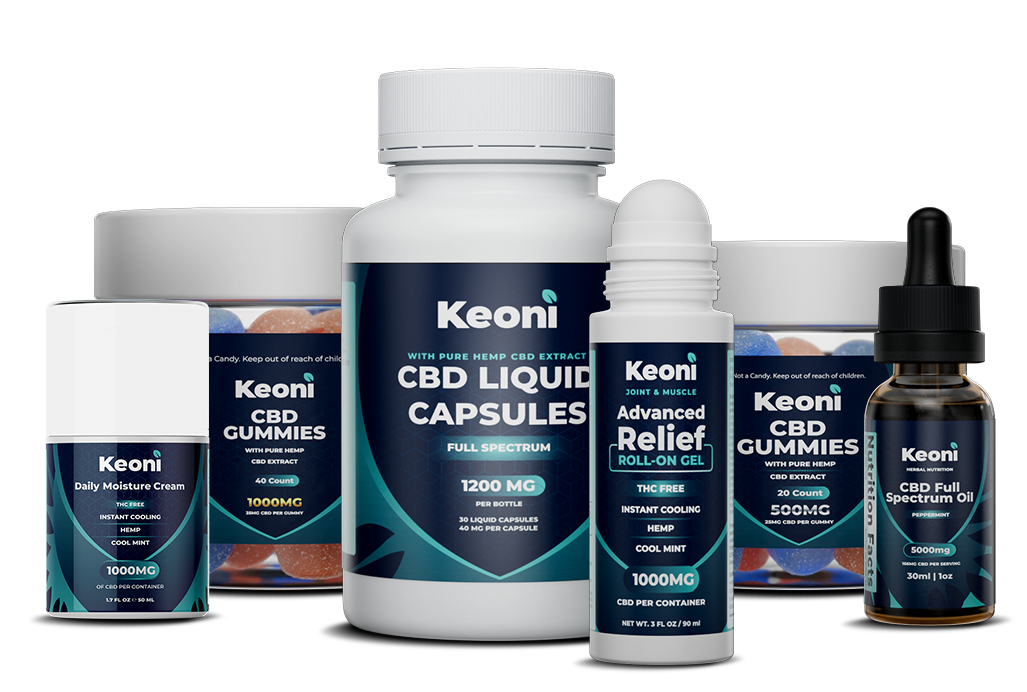 Why Choose

Our focus is always on YOU! When we founded Keoni, we set out to create a simple line of CBD for the people
by the people!
The foundation of our CBD process is understanding that certain aspects can never waiver.
That's why every Keoni product is:
Made with 100% organically grown CBD
3rd party tested to ensure purity and quality
Formulated for unrivaled value and effect
Ready to help you take on the world!
Shop Now!